MSB Technology

Chi è e come lavora MSB Technology?

Intervista a Jonathan Gullman, CEO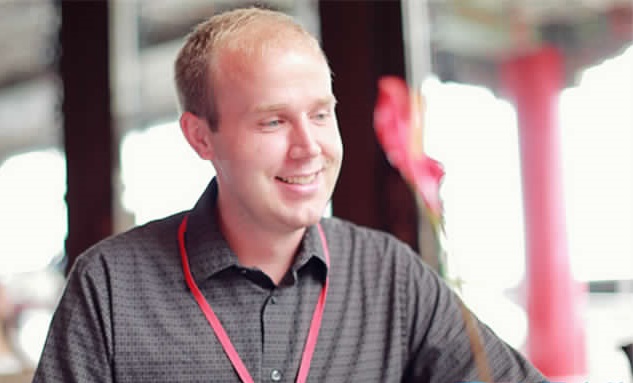 Intervista a Daniel Gullman, Product Dedigner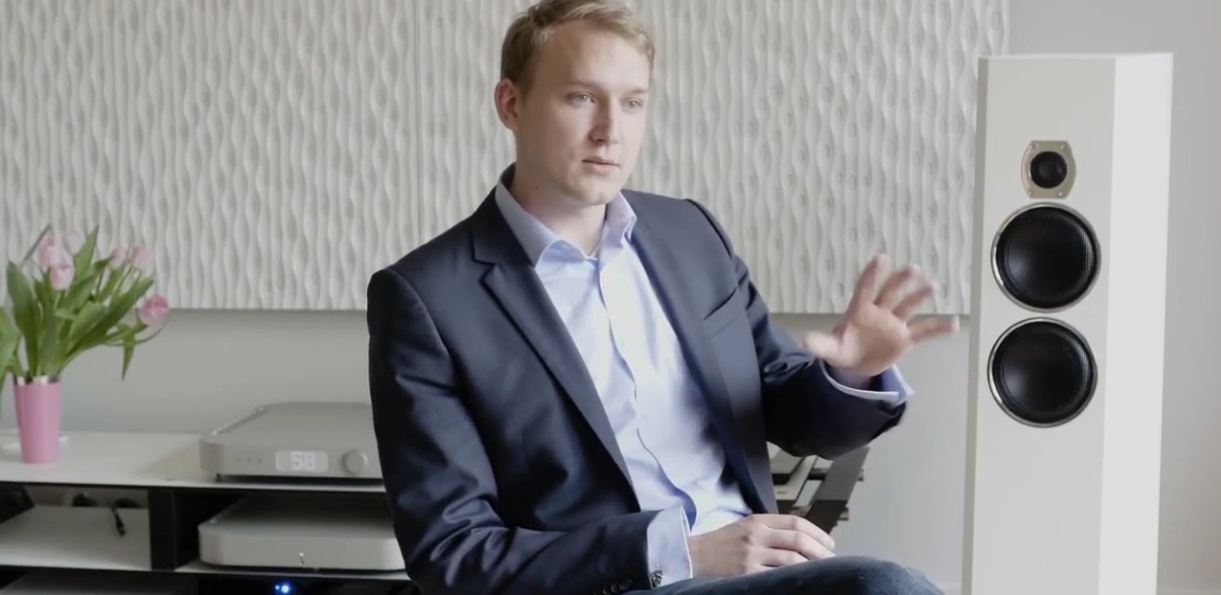 Intervista a Frank Vermeylen, European Sales Representative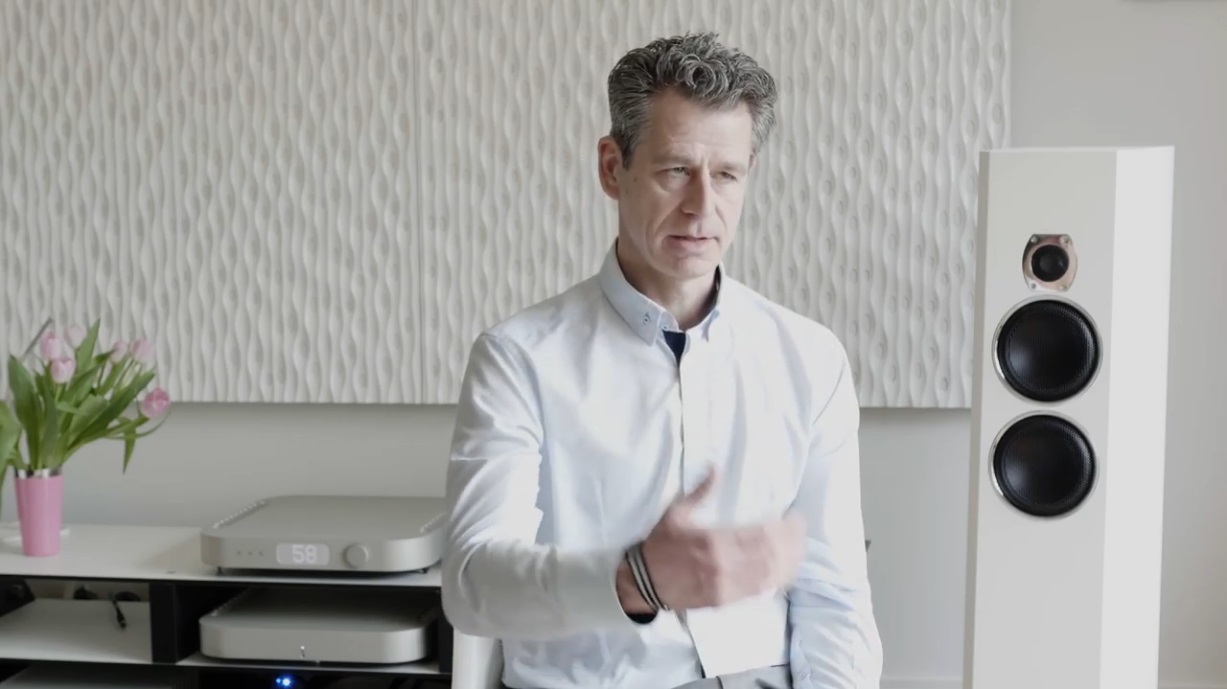 Queste tre interviste penso possano spiegare meglio di ogni altra considerazione la vision e le specificità che caratterizzano MSB Technology, il suo approccio al mondo della riproduzione musicale tramite la tecnologia digitale, le potenzialità a cui questo tipo di approccio dà origine e la sua supremazia prestazionale indiscussa.


Located in Silicon Valley, our dedicated engineers and production specialists work to bring you the best in high-end audio. Combining elegant design thinking with a passion for lifelike reproduction, our close-knit team, led by brothers Jonathan and Daniel Gullman, build and curate a wide array of hifi products—DACs, transports and amplifiers—setting an industry benchmark. By relying on tight integration between electrical, mechanical and consumer needs, we strive to push the listening experience further. At the end of the day, our joy comes from innovation and sharing our leading-edge technologies with the world.
Designing DACs for more than 25 years has given us keen insights for future ready products. Now, more than ever, our product range has the most flexible architechture yet. California based in-house development and manufacturing has evolved the digital front-end to a new level of playback.


Jonathan Gullman
CEO, Designer
Jonathan, along with his brother Daniel, grew up in the high-end audio world. Ever since he was a child he has been working with electronics with the focus on audio. Having been a part of MSB most of his life, he has done every aspect of the business giving him a better understanding of both what the customers need and how to create amazing product.
After graduating university with honors with an Electrical Engineering degree, Jonathan has worked full time at MSB. One of his first projects was the development of the DAC IV and the Data CD IV products. Since 2006 he has been the engineering manager overseeing all projects to make sure that products are designed with the optimal integration between functionality, sound quality, and reliability. He has continued the MSB tradition of keeping the majority of cost is to be spent on the sound quality and performance, and not the chassis itself.
Jonathan also manages all the technical support for all of the products. If a customer is having trouble with a product , Jonathan has been involved in getting the problem resolved. All repairs are performed or overseen by Jonathan directly allowing him to implement new production procedures or design changes to prevent them happening again. By working directly with the customer, it allows him to understand the end users needs directly, which greatly influence new product designs.
In 2016 he became an owner and the CEO. He continues to be the engineering project manager and designer while performing sales working closely with our distributors. He works with the other designers closely as a team and only through the close cooperation between all of the designers is MSB able to produce the great products that we have. There is no product produced that is completely ones person design, everything is worked on together as a team. Jonathan believes that one person can make a good product, but it takes a team of designers to make a truly great product!
In Jonathan's free time, he enjoys the outdoors. He loves going on hikes in Yosemite and backpacking in the Sierra Nevada mountains. He lives on a farm and with his wife they have their own vegetable garden. He also enjoys traveling and looks for any excuse to go see somewhere new!
Daniel Gullman
Product Designer
Daniel oversees all of the mechanical design and manages the production and shipping department. His passion is product design and creating product designs that bring people joy. His daily tasks are managing the entire production process from start to finish to ensure the quality we demand. Not only does he design, the product, he programs the CNC machines and keeps them running every day.
Jonathan and Daniel both brothers and co-owners of MSB. They work closely with each other maintaining the legendary legacy of the top performing products on the high end audio market They were both born into the high end audio world and it is in their blood. From a very young age, both brothers were in the shop soldering and fabricating products.
After graduating with a degree in Mechanical Engineering with honors at age 20, Daniel joined the MSB team. The first product he developed was the Analog DAC. Another early key addition was adding a full machine shop to the company, critical in making so many of our products a reality. Without formal CNC training, Daniel was given a Haas CNC milling machine and he quickly mastered the process reducing delivery times and increasing finish quality. The Analog DAC chassis was our first full product made completely in our factory using American sourced materials and our own CNC machines.
With transition of in house fabrication directed by Daniel, he was able to improved product quality and reduce costs. Daniel is also able to create a prototype a product in a single day, allowing him to create 5 different versions in a single week allowing for the design to meet our desired results.
Daniels crowning achievement is the case design for the Select DAC II. It took countless design reiterations and all of the skills he learned over the last five years to create. Working with a solid 3″ thick unibody design was a challenge to be conquered. After many design prototypes, the current Select DAC II design was achieved with complete satisfaction. The process requires more than 80% of the raw aluminum to be removed from aluminum billet requiring 8 hours of machining per chassis. Complete integration of the display, knob control, modules, and heatsink integrated into one sleek package. Finishes of the highest standard were required and pushed the limits of what MSB was capable of.
Daniel is very excited for the future designs we are working on. According to Daniel, even after 25 years, MSB is just beginning to unlock the potential of what high-end audio can become.
Vince Galbo
North American Sales Manager
This is Vince Galbo; he is our US Sales Manager. He is responsible for setting up dealers and promoting our products in the North American region. If you are interested in hearing the potential that an MSB product has to offer, contact Vince and he will connect you with one of his hand-picked dealers.
Vince has been an avid audiophile since 1975 and has spent much of that time increasing his knowledge about how sound quality and technology relate. He has an extensive background in practical mechanics and electronics that enables him to finely tune each system to achieve its maximum potential.
He has installed many audiophile two channel systems and large home theaters with an edge on audiophile performance. He has experience in sales in multiple fields, most recently in audio product distribution. He believes that the most important component in a system is the source and has joined MSB to promote and build sales of all MSB products and has been working hand in hand with MSB since 2001.
Frank Vermeylen
European Sales Manager
Frank is a passionate musician and manages the MSB Showroom in Antwerp. His experience with High End Audio and system tuning as well has his interest in music reproduction and acoustics allow him to maximize the performance of the MSB products and the system they are combined with. His passion for music and his humble helpful attitude combined with a good ear make him a great brand ambassador. He supports the European MSB Distributors and International dealers and assists with shows and press.
For countries in Europe where we do not have a partner, he's the first contact to go to.
If you would like to discover the MSB products, contact him and he will connect with the right dealer.

Sito web:
http://www.msbtech.com
Torna all'inizio

Guide e manuali
Manuale dei prodotti, manuale di configurazione Roon, JRiver, Quad DSD USB e Renderer:
www.msbtechnology.com/support/
Tabella comparativa DAC MSB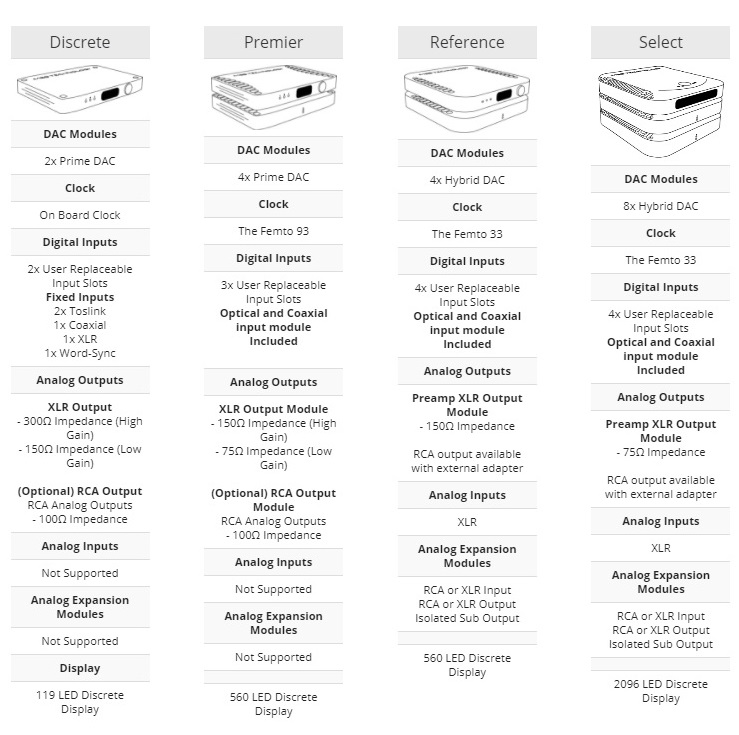 Our Clock Technology
Clocks are a vital part of digital audio reproduction. Clocks determine the exact timing of the conversion process. Each sample needs to be placed at exactly the correct time to faithfully recreate the original analog sound. Below are examples of how MSB provides attention to every aspect of our purpose-built clocks.
What gives MSB's audio clocks their unique design?
Each of our DACs uses a custom in-house designed and manufactured clock module. Our clocks are uniquely designed for maximum audio conversion quality. Each clock module is made with custom handcrafted parts and is independently calibrated for optimal performance. We developed our first custom handcrafted clock in 2011 and have improved the technology since. Every clock module we make is actually two independent clocks in each module. There's an independent oscillator for each frequency family. Only one of these circuits is turned on at a time; having the second clock on would add additional unwanted noise. Before the audio playback starts, the DAC determines the base sample rate and selects the correct playback clock. This allows the DAC and the entire system to run off a single native clock at the correct frequency, without the need for conversion by a PLL, SRC, ASRC, or frequency synthesizer.
All of our design builds upon the primary design goal of our clocks having the absolute lowest jitter. Every time we developed a lower jitter clock, we told ourselves there would probably be no additional audible improvement–but we proved ourselves wrong with each iteration. Lowering the jitter audibly improves DAC performance in a linear fashion; there doesn't seem to be any diminishing returns.
It's also important to know what happens with the clock after it leaves the oscillators. Jitter is an additive noise. Every time the clock goes through a device jitter is added. This is why you'll find the clock right next to the DAC modules on the analog side of the circuitry. We treat the clock as an analog component and we maintain the lowest possible jitter in every step between the clock module, right to the point of conversion in the DAC module.
Why is it important for a DAC to have two clocks?
The vast majority of digital audio was recorded within two different frequency families: multiples of 44.1kHz and multiples of 48kHz. The 44.1kHz family includes CD, DSD and many high resolution formats such as 176.4kHz. The 48kHz family includes most sound recorded along with video and many high resolution formats, such as 96kHz and 192kHz audio. But there are differences between these two frequency families. One oscillator–such as 10Mhz or 27MHz–can be converted into the frequencies required to play back both the 44.1kHz and 48kHz families. However, the electrical circuits required are extremely lossy, leading to a large degradation of clock precision. There are various techniques for converting one clock frequency into another. For example, clock synthesizers, PLLs or ASRCs can be used, but they're all very lossy. The best solution is to have an independent clock oscillator for each frequency family chosen for each playback scenario.
Why clock jitter is more important than accuracy?
An audio clock needs to be as low-noise and low-jitter as possible. The DAC itself recreates the correct signal amplitude, but it's the clock that recreates the correct signal timing. Jitter is a measure of how precise each clock tick is. If each second is exactly the same length, this indicates low jitter. If some seconds are longer or shorter than others, this indicates high jitter. Clock accuracy is a measure of how close the average second of a clock is to the theoretically perfect second. Audio playback needs super low jitter but not super strict accuracy. If a clock is jittery, each part of a signal is being placed at the wrong time relative to the others, so the sound will be distorted in an unnatural way. However, if a song plays back slightly fast or slow due to the inaccuracy of a clock, it won't be noticed. Since an extremely low accuracy clock (+-100ppm) will change the length of a one hour recording less than half a second, it's apparent clock accuracy doesn't matter much. Most clock technology is designed for communication systems, which need extreme accuracy to keep far flung nets in synchronization. These clocks are not optimized for low jitter at all– just high accuracy. Using ultra-precision communication clocks is not a great solution for audio playback. Digital audio clocks need to be low jitter first and foremost.
Why are external clocks sub-optimal for digital audio?
A clock signal is a fast moving precision electrical signal and is extremely sensitive to added noise or distortion. Each time it's buffered or transmitted, a portion of its precision is lost. Even if a small amount of noise couples into the clocks, jitter will increase dramatically. It might still be an accurate clock, but accuracy is of little performance benefit to digital audio. A clock sent over an ultra-high quality cable will still increase its jitter considerably. The best solution is to create the lowest jitter clock as close to the DAC as possible.
What is Phase Noise and why does it matter?
Finally, there's an important note about jitter measurements and comparing different clocks. The published jitter number in pico or femto seconds is a result of conversion calculation from a phase noise measurement. A phase noise measurement is the "whole picture" of how a clock's frequency changes with time. Jitter is just a single number distillation of a phase noise measurement. Depending on the parameters of this distillation,radically different numbers for jitter can be created. A jitter number depends on a phenomenon called integration bandwidth. If you change the integration bandwidth assumptions for the same high quality oscillator, you can get very different numbers. This makes it difficult to compare jitter specifications from different manufacturers. For example, jitter specifications from 7fs to 300fs can be truthfully published for the same exact oscillator by changing the integration bandwidth. If you want to compare two oscillators apples to apples, you need to know the jitter specification, as well as the data (phase noise) and bandwidth used to calculate the jitter numbers.
USB Interface Overview
The USB input is a convenient way to directly connect your computer or laptop to your MSB DAC for easy digital media playback. Standard USB inputs on DACs are common. What is not common is what we do with ours. All MSB USB Inputs were developed using an in-house hardware design for optimal audio playback performance. The entire USB module has a high level of isolation between the USB hardware and the DAC. The USB interface is limited to 384kHz and 4xDSD. Our MQA version also supports full MQA decoding. MSB offers a modular solution that is easily installed for all current DAC models. Older DAC models such as the DAC IV/IV+, Analog DAC, and DAC V are still supported and USB solutions are currently available.
Advantages:
-Synchronous to the DAC
-Works with most music server and computer systems that support USB audio
-Works at rates up to 24/384kHz and 4xDSD
Limitations:
-Limited level of isolation between the DAC and the often extremely noisy source
-Offers no software control of the DAC from the host source (Volume, etc…)
-Limited to short cable lengths
The Network Renderer V2

Superior streaming
There are many renderer interfaces in the industry. The MSB Renderer was developed using an in-house hardware design running an ultra low noise A5 processor for optimal audio playback performance. Our Renderer V2 interface is MQA and Roon Ready and has a maximum sample rate of 32/768kHz and 4xDSD. The entire renderer solution is galvanically isolated from the DAC including isolated power. The main advantage of the Renderer Input module is it makes the DAC into a network endpoint for many current playback software packages and allows computer control of the DAC volume. An added bonus to connecting your DAC with the internet is automatic firmware updates via the internet will ensure that your renderer and DAC always has the latest capabilities with ultimate convenience.
Advantages:
-Lower noise than most music servers or direct USB connections
-Offers software control of the DAC from the host source (Volume, etc…)
-Can be wired directly to most home computer network
-Works at rates up to 32/768kHz* and 4xDSD
– MQA decoding
– Roon endpoint
– Up to 4X DSD*
– UPnP protocol
– DLNA protocol
– Bit-perfect data transmission
– Isolation from sensitive DAC processing
– Support for gapless playback (depends on UPnP server and controller software)
-DAC master clock synchronization
-Ethernet RJ45 input
-Compact and low EMI design
Limitations:
-Only provides a medium level of isolation between the DAC and the typically noisy home network
-Prone to network issues
* Analog DAC, DAC IV/IV+ and DAC V models have limited format support
Torna all'inizio
Recensione a sei mani del Platinum DAC IV di MSB su Audioreview di Marzo 2011.
Marco Benedetti, Roberto Lucchesi e Fabrizio Montanucci ci illustrano le meraviglie di questa elettronica.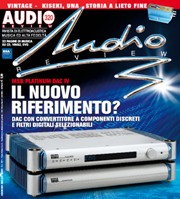 "Tanto per essere chiari, è successo quello che, ahinoi, capita ben di rado (...) ovvero quelle rare volte che le misure trovano un chiaro conforto negli ascolti. Scusate se vi ho rovinato la suspense, ma francamente c'è poco da farla lunga di fronte a prestazioni del genere: dei vecchi record del nostro laboratorio, credo se ne siano salvati pochi." Marco Benedetti

"L'unità di conversione MSB presenta caratteristiche che la inseriscono direttamente tra quelle che oggi definiscono lo stato dell'arte di questa tecnologia, e sotto taluni parametri possiamo tranquillamente dire che al momento si tratta di un unicum assoluto." Fabrizio Montanucci

"Ai meno esperti in audio digitale vorrei far notare che costruire un siffatto dispositivo a componenti discreti (convertitore D/A) è qualcosa che ha dell'incredibile, in quanto occorre utilizzare delle resistenze ultra-precise che certamente non si trovano in commercio, tant'è che sono state fornite alla MSB da un'azienda di componenti che lavora per le aziende aeronautiche." Roberto Lucchesi

Intera recensione di Audioreview


---
La prova apparsa sul numero di Febbraio 2010 di Suono non lascia spazio ad interpretazioni su come i recensori di Suono abbiano sentito esprimersi il convertitore D/A Platinum DAC III Signature di MSB. Di seguito alcuni passaggi:

" (con musica in risoluzione 176,4KHz) ... sembra che qualsiasi amplificatore, anche il meno potente, disponga di una riserva di potenza quasi infinita: il livello indistorto sembra non avere un limite se non quello fisico dell'orchestra che suona. Mai altre volte la prestazione dinamica in gamma bassa ha raggiunto questi livelli di eccellenza nella nostra sala di ascolto."

"La sensazione è che i diffusori non esistano più, non c'è più il limite fisico della loro altezza e della loro disposizione: è tutta la parete di fondo a diventare un unico e grande diffusore."

"... tutta la gamma audio è completa, ricca, senza sbilanciamenti o sensibili lacune. La gamma più bassa è incredibilmente potente e solida e allo stesso tempo ben ferma e senza code. (...) l'altissima corretta, precisa, ben definita senza essere mai fastidiosa. Potente ed estesa la gamma media."

" (con musica in alta risoluzione) ... l'impatto risulta devastante in toni assolutamente positivi: i particolari, le sfumature, il senso di dimensionamento risultano diverse unità di misura superiori (al formato CD): la timbrica sicuramente acquista maggior valore ma è sul piano della dinamica e della riproposizione della scena che l'alta definizione fa sentire in maniera evidente la sua superiorità. Tra il piccolo triangolo così minuto e delicato e le imponenti grancasse e timpani non avviene nessuna compressione (...) Ma ancora più impressionante il muro di suono: non sono più i due diffusori a suonare ma è tutta la parete di fondo nelle sue dimensioni totali a vibrare per proiettarci ad un passo dalla grande orchestra, quasi circondati da essa."


---
Power DAC recensito da Stereo & Image
Il convertitore MSB Power DAC impressiona i recensori francesi:
"Con la sua alimentazione a batteria, il convertitore sviluppato "in casa" ed il suo filtro digitale sovracampionato 16 volte, il Power DAC si propone come un convertitore "a parte", originale, estremamente performante e superbamente musicale.

Sulle uscite non bisogna esitare ad utilizzare un cavo di buona qualità per collegare l'MSB ad un preamplificatore. Questo convertitore è di una trasparenza eccezionale e merita di essere associato ad un preamplificatore dalle capacità paragonabili (...) A questo livello di qualità il minimo difetto si percepisce nettamente e rischia di diventare intollerabile.

Sul nostro disco test « The Pulse » traccia 5, ci si rende rapidamente conto che si ha a che fare con un "grande" convertitore. Dai primi secondi si pensa di stare ascoltando un disco analogico dove il rumore ed i disturbi tipici del vinile semplicemente non disturbano l'ascolto.
I piani sonori si delineano nello spazio con una facilità non comune. L'immagine sonora offre una prospettiva sorprendente di realismo aprendosi ampiamente dietro i diffusori fino verso il fondo ed i lati della sala.

Sul brano « Juslang » delle « Cantate Domino », il Power DAC si distingue da molti suoi concorrenti per una immagine stero stabile, concisa, molto realistica. L'organo si "installa" bene al suo posto, nelle retrovie, mentre la cantante si posiziona su un piano molto più ravvicinato con una precisione formidabile. Il timbro della voce è di una dolcezza notevole. Questa dolcezza non si traduce in una sensazione di carenza o velatura del medio acuto, ma piuttosto in una assenza di durezza nonstante il livello sonoro importante nello spettro delle alte. Possiamo spingere il volume senza mai sentirci aggrediti né frustrati dalla mancanza di informazioni in gamma medio alta.

"Più lo si ascolta e più lo si ama"... Questo convertitore MSB ci ha particolarmente conquistato per la sua estetica sonora a due facce: con una capacità di analisi esemplare, una poroposizione reale dei dettagli ed una restituzione dei timbri sempre calorosa, con un carattere "analogico" particolarmente seducente.
Trasparente e naturale il Power DACè un convertitore realmente musicale che sa far passare le emozioni con un facilità sconcertante.
Un apparecchio che consigliamo vivamente a tutti gli audiofili e amanti della musica che ancora oggi sono poco convinti del digitale. "

Leggi l'intera recensione (Francese)
---
Platinum DAC III Signature su EcoutezVoir Magazine
"La vera forza del Platinum DAC III Signature è l'omogeneità delle sue performances. E' l'encomiabile equilibrio di cui dà prova in ogni circostanza che ne fanno un interprete a volte nascosto ma terribilmente efficace della musica. Durante le settimane della sua permanenza in sala, non ho mai smesso di farmi sorprendere dal semplice piacere di farmi cullare dalla melodia, riscoprendo i miei dischi dall'inizio alla fine piuttosto che restare concentrato sull'analisi di un passaggio. E' il più bel complimento che io gli possa fare, poichè quando per lavoro si è abituati a sessioni d'ascolto quotidiane di più ore, occorre che l'apparecchio sia veramente eccezionale per lasciarsi andare senza pensieri assaporando la musica."

"Un altro ambito in cui l'MSB afferma una superiorità insolente è quello della dinamica. Sull'intero spettro, fino agli estremi della banda passante, l'MSB di mostra una propensione entusiasmante per la risoluzione e la microdinamica."

"Le sue superlative capacità in termini di immagine stereo e fluidità di banda passante si mettono al servizio dell restituzione di una musicalità veramente rara al fine di avvicinarsi chiaramente all'ascolto di un supporto analogico senza privarsi della precisione del digitale."

Leggi l'intera recensione (Francese)
---
Platinum DAC III su Fedeltà del Suono
L'Ingegner Mozzi su Fedeltà del Suono n. 154 di Ottobre 2008 scrive tra l'altro:
"...la prestazione è davvero superlativa: questo convertitore avvicina alla Musica più di quanto abbiano fatto altri prodotti recentemente apparsi in saletta."

"...straordinaria riproposizione del soundstage: tutti gli esecutori sono al loro posto, molto stabili, correttamente delineati e collocati all'interno di un palcoscenico che si svincola completamente dal diffusore. (...) ed è proprio la profondità inusitata a stupire, assieme alla larghezza della scena che si estende anch'essa ben al di là della larghezza dei diffusori stessi. (...) l'aria intorno agli esecutori è maggiore, più tersa (...) I generi musicali dotati di una grande ambienza naturale vengono resi con il giusto tempo di riverbero. (...) tutto è riproposto nel modo giusto che pare superfluo andare a citare altre caratteristiche della riproduzione come dinamica, contrasto o velocità."

"...il Platinum DAC III merita senza dubbio un successo commerciale grazie alle sue indubbie eccelse qualità: da acquistare e tenere a lungo quindi, od almeno in attesa che MSB divenga anch'essa un punto di riferimento come lo sono divenute DCS, Metronome, EMM Labs...".

Leggi l'intera recensione
---
Platinum DAC III su Revue du Son
"Prodotto di alta gamma che non segue conformismi industriali senza cadere nell'esoterismo più spinto, il Platinum DAC III è una realizzazione funzionale e moderna, la cui finezza di riproduzione lascerà più di un audiofilo stupefatto."
Così la prestigiosa rivista francese Revue du Son che ha premiato il Platinum DAC III con le 5 stelle (il più rinomato riconoscimento in Francia per un'apparecchiatura hiend).

Leggi l'intera recensione