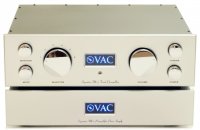 Recensioni:
Dagogo - Marzo 2010 (english)
Inner Ear - Aprile 2010 (english)
Angelo Jasparro su Audioreview 09-2010 (ita)
Stereophile Giugno 2015


Tanto leggere ovunque che l'alta fedeltà può essere solo un pallido simulacro della realtà mi aveva ormai quasi convinto della correttezza dell'affermazione. Vivaddio, c'è ancora una speranza, alla faccia dei negazionisti ad oltranza." - Angelo Jasparro, Audioreview Settembre 2010

Brochure Signature MKII e Signature MKII SE


Descrizione: Preamplifcatore valvolare hi-end 2 telai a circuitazione completamente bilanciata e zero feedback negativo.
Disponibile anche in versione Special Edition con soluzioni progettuali e componentistica derivanti dal top di gamma Statement (linea e fono).

Comandi: Volume, selettore di ingressi, Cinema bypass, mute (il Logo si illumina di rosso quando attivato)
Valvole: Linea: 2x 12AU7, 2x 8416
Phono (opz): 6x 12AX7
Ingressi: Linea: 5 Rca, 1 XLR, 1 Rca Tape, 1 Cinema bypass
Phono (opz): 1 Rca MM/MC
Uscite: 2 Rca, 1 XLR, 1 Rca Tape Record
Guadagno: Linea: 12db
Phono (opz): MM 44db, MC 64db
Note: amplificazione tramite triodi in Classe A1 - nessun condensatore lungo il percorso del segnale,
Chassis amagnetico in alluminio con frontale da 1cm
telecomando (volume regolato elettromeccanicamente senza l'utilizzo di realys o microprocessori)
Dimensioni (lxaxp): 45,7 x 14 x 37 cm
Peso: 36.4 kg (41.4kg con sezione phono) incluso imballo
Colore: nero con manopole dorate, argento con manopole cromate

Nella versione Special Edition (SE) i trasformatori di ingresso derivano direttamente da quelli utilizzati per i modelli Master e Statement.


The culmination of eight years' research and development, this is VAC's finest preamplifier. Its new and unique circuit follows VAC's "first principles" design philosophy, wherein we look beyond conventional wisdom to discover what a preamplifier really must do to preserve musical life. As usual, the answers are distinct from anything you've seen or heard before.

Through its principal outputs, the Signature Preamplifier contains no coupling capacitors from input to output. No coupling capacitor hinders the purity and detail developed by the hand-wired direct-coupled Class A1 triode tubes. Additionally, no loop negative feedback is used; the output interface is completely stable and free from dynamic interactions with the load. In addition to five standard line inputs (four when phono is fitted), a fully balanced input is provided. Fully balanced outputs are present, as are dual standard RCA outputs. Balancing is achieved by differential triodes driving a special output transformer. This design ensures a true balanced signal, capable of driving even the most cruel professional studio equipment, something impossible with cathode followers and totem circuits. In addition, the transformer output may be used with unbalanced loads. In this manner, galvanic loops and interaction between source & power amp feedback loops are eliminated, allowing for the most liquid, dimensional sound.

The line stage also offers a fully buffered tape loop and VAC's Cinema Bypass mode, which allows your high-end stereo system to integrate seamlessly with home theater. The Cinema Bypass input is a fixed gain input that allows your source component to control volume, and passes this signal through to the stereo power amplifiers without further processing. It allows a cost-no-object stereo system to integrate seamlessly into a home theater context when needed, without any degradation of two channel performance from traditional stereo sources. The Cinema Bypass input may also be used with stereo components that have their own level control, such as d/a converters.

The optional phono stage is a zero-feedback design incorporating six low noise triode tubes. Sensitive and quiet, it is capable of handling even low output moving coil cartridges. A rear panel switch allows engagement of wideband transformers to provide a proper and balanced load to low output pickups. Electrostatic decoupling prevents the heater circuits from "talking" to each other, a common cause of lost detail. Indeed, a completely separate power transformer and filter circuitry are dedicated to the phono stage, eliminating any disturbance of the delicate phono signal by the powerful line stage. Variable load switching is provided.
The laquered aluminum remote control is standard. Uniquely, our remote system is implemented with electromechanical switches and controls. This approach is considerably more costly than the usual digital interfaces, but has several major advantages. First, no VCAs, relays, or transistor switches (switched ladder networks) are used in controlling volume. This is mandatory for sonic purity. Second, VAC's careful implementation avoids the use of microprocessors, which generate significant noise signals that, while sometimes not audible directly, can do damage to the sound. Third, the front panel controls are direct and intuitive to use, their positions indicating at a glance exactly how the unit is set.
The VAC logos are backlit with an elegant blue in normal operation, but display red when the mute is activated. These are set in the heirloom-quality sculpted 3/8" fascia. The liberal use of sound deadening material compliments the 1/4" thick CNC-machined aluminum chassis, creating a solid mechanical foundation.
Internal parts are specified from the finest and most exotic materials, as extreme measures and the most careful "voicing" are required to reach this unequaled pinnacle of perfection.