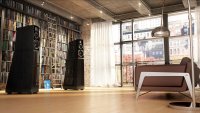 The uncompromising design of the Lohengrin IIS is the result of twenty-five years of wholehearted commitment to loudspeaker research. It effortlessly competes among the most respected loudspeakers of the world through its blend of proprietary design features and individual components of the highest quality. At Verity, there is no place for compromise.
Verity has designed all drive units, including the unique pure ribbon, which is built from scratch in-house. The design of the cabinet is not only visually stunning: it also provides an ideal acoustic environment for the extraordinary drive units. Above all, the Lohengrin II delivers an unprecedented balance of detail, dynamics, and overall musicality. It is truly a force to be reckoned with.
Efficiency: 95 dB @ 2.83 Vrms & 1 meter on axis;
Bandwidth of 15 Hz to 60,000 Hz;
Fully custom-made proprietary transducers using state-of-the-art technologies;
Pure, resonance-free Verity aluminum foil ribbon tweeter;
Superb proprietary 5" (127 mm), 9" (229 mm) and 15" (380 mm) mid-and-bass transducers;
Constrained Layer Floor Isolation Platform with adjustable feet;
Verity's unique rear-firing woofer configuration provides extreme definition down to the lowest octaves;
Wide amplification selection starting from 5 watts up to unlimited power;
Bi-wireable and bi-amplifiable;
Gorgeously crafted and finished with exquisite Italian lacquer;
Beautifully packed and delivered in deluxe Air Transportation Approved metal cases.