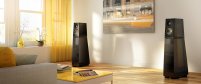 The Parsifal Anniversary benefits from a refined and ingenious study of cabinet construction. Verity chose a new cabinet design whose acoustics provide a genuine and uncoloured sonic performance. The specially engineered cabinet quickly dissipates and diffuses stray energy via a new proprietary design that combines inhomogeneous materials, precisely located inner bracings and mechanical impedance matching. Together, these properties grant the new Parsifal Anniversary an amazing ability to produce music.
The new Parsifal Anniversary is a 3-way, full range loudspeaker. It houses a 1-inch double-ring tweeter, a proprietary 5-inch midrange and a proprietary 8-inch woofer. The rear-firing woofer, which is housed in a bass reflex cabinet, benefits from the proven exceptional bass performance and image definition of Verity's unique and well-known bass tuning system. Verity's constrained-layer floor isolation platforms were originally developed for the Parsifal and are an integral part of the product.

An icon of excellent musicality, reliability and aesthetics;
Appreciated for the richness of its tonality, its precision and its appearance;
Two isolated cabinets provide superior sound coherence;
Refined appearance and industrial design;
Unique bass tuning for better low frequency extension;
Superb custom-made, proprietary midrange and woofer drivers using state-of-the-art technologies;
Wide bandwidth: 25 Hz to 50,000 Hz;
A true international reference used by many professional and studios;
Gorgeously crafted and finished with exquisite Italian lacquer;
Constrained-layer Floor Isolation Platform.